Laser Dentistry in Houston, TX
What is Waterlase?

Years of engineering and research by led to discovery of a water-energizing 2,780 nm YSGG laser and an air & water handpiece – both patented by BIOLASE – that combine to symbiotically excite water molecules from within both the spray and the target tissue. This results in a biological, effective micro-ablation of tooth structure, bone, or soft tissue
Benefits: Accuracy & Precision
Heat, vibr, tion and pressure are the primary causes of pain associated with the use of the traditional dental drill. Since cutting both hard and soft tissues (teeth and gums) with the WaterLase does not generate heat, vibration or pressure, many dental procedures can be performed nearly pain-free with fewer shots, less need for anesthesia, less use of the drill and fewer numb lips! Additionally, using the WaterLase for gum procedures reduces bleeding, post-operative pain, swelling and the need for pain medication in many cases. It's just a better way to get your dentistry done!
WaterLase dentists are able to remove tooth enamel decay (the hardest substance in the body), bone and gum tissue precisely while leaving surrounding areas unaffected. This conserves more of the precious tooth structure you were born with, helping you to maintain your natural teeth longer!
Reduced Trauma
High speed drills can cause hairline cracks and fractures in the teeth that eventually lead to future dental problems. WaterLase reduces damage to healthy portions of the tooth and minimizes trauma.
Improved Cavity Fillings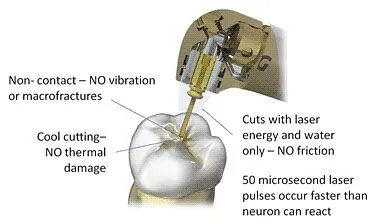 WaterLase cavity preparations can increase the bond strength of tooth-colored restorations resulting in longer lasting fillings.
Less Bleeding & Swelling
Due to its conservative, biologically based cutting action, the WaterLase performs many soft tissue (gum) procedures with little or no bleeding and less post-op swelling.
Versatility
The WaterLase is extremely versatile. It can be used for a wide range of hard and soft tissue procedures. From decay removal, cavity preparation, root canals, smile design, gum, and bone surgical procedures and many others. Let your WaterLase dentist be a one-stop shop for you
How WaterLase Flies Under the Human Body's "Pain Radar"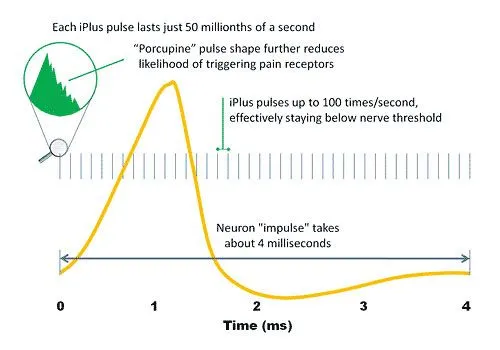 Our Biological Dentistry™ approach to diagnosis, treatment, and prevention is the logical result of our investigations into why conventional treatment with the drill causes pain, necessitates the use of anesthetic, and causes unintended damage to surrounding healthy tissue – negative consequences that have long been accepted for lack of a better solution. A fresh look at the anatomy and physiology of teeth and oral soft tissues showed us there could be a more biologically friendly way to treat them.
Tooth enamel naturally contains up to 5% water; dentin and bone up to 25%. Years of BIOLASE research led to the discovery of a water-energizing 2,780 nm YSGG laser and a handpiece that delivers air and water in precise proportions – both BIOLASE patented – that combine to symbiotically excite water molecules from both the handpiece spray and inside the target tissue. The result is an effective biological micro-ablation of tooth structure. The atomized spray of water and air continually re-hydrates the tooth, preventing heat and pain. We named this technology WaterLase©.
Why WaterLase YSGG Laser Energy is Superior to Erbium YAG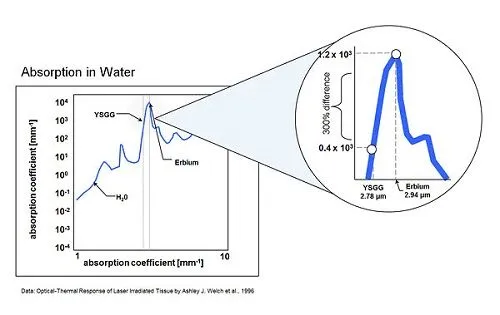 A graph of the absorption of various wavelengths of laser energy in water shows that erbium laser energy is absorbed at a rate 300% greater than YSSG laser energy.
On hard tissue, an erbium laser will quickly vaporize the water naturally present in dentinal tubules and enamel prisms and damage the tooth, without the use a far greater amount of water spray than the YSGG laser. This additional water at the tissue surface means less energy is being absorbed by the hydroxyapatite and enamel, significantly reducing the cutting speed of the erbium laser.
On soft tissue, the erbium laser's higher absorption by water means that it draws more blood and fluid to the surface, dehydrating the tissue and obscuring the field of view.
The physics of the YSGG wavelength is perfectly balanced to remove enamel and dentin, and to surgically cut and coagulate soft tissue.
WaterLase Dentistry™ Clinical Uses
WaterLase was first cleared by the US Food and Drug Administration (FDA) to cut tooth structure in 1998, and since that time it has received numerous additional clearances from the FDA for a wide range of procedures on teeth, bone and gum tissue.
Laser Hard Tissue Applications
Hard Tissue Procedures
Class I, II, III, IV and V cavity preparation
Caries removal
Hard tissue surface roughening or etching
Enameloplasty, excavation of pits and fissures for placement of sealants
Laser Soft Tissue Applications
Soft Tissue Procedures Including Pulpal Tissues
Excisional and incisional biopsies
Exposure of unerupted teeth
Fibroma removal
Flap preparation - incision of soft tissue to prepare a flap and expose the bone
Flap preparation - incision of soft tissue to prepare a flap and expose unerupted teeth (hard and soft tissue impactions) •
Frenectomy and frenotomy
Gingival troughing for crown impressions
Gingivectomy
Gingivoplasty
Gingival incision and excision
Hemostasis
Implant recovery
Incision and drainage of abscesses
Laser soft tissue curettage of the post-extraction tooth sockets and the periapical are during apical surgery
Leukoplakia
Operculectomy
Oral papillectomies
Pulpotomy
Pulp extirpation
Pulpotomy as an adjunct to root canal therapy
Root canal debridement and cleaning
Reduction of gingival hypertrophy
Soft tissue crown lengthening
Sulcular debridement (removal of diseased and inflamed soft tissue)
Treatment of canker sores, herpetic and aphthous ulcers of the oral Mucosa
Vestibuloplasty
LASER COSMETIC PROCEDURES
BONE SURGICAL PROCEDURES
Cutting, shaving, contouring and resection of oral osseous tissues (bone)
Osteotomy
LASER ENDODONTICS
ROOT CANAL/ENDODONTIC PROCEDURES
The WaterLase MD™ with Endolase™ Radial Firing Tips is indicated for disinfection of the root canal after endodontic instrumentation
Tooth preparation to obtain access to root canal
Root canal preparation including enlargement
Root canal debridement and cleaning
Flap preparation - incision of soft tissue to prepare a flap and expose the bone Cutting bone to prepare a window access to the apex (apices) of the roots
Apicoectomy
Root end preparation for retrofill
Removal of pathological tissues and hyperplastic tissue
LASER PERIODONTAL THERAPY
LASER PERIODONTAL PROCEDURES
Waterlase MD™ Turbo Er,Cr:YSGG assisted new attachment procedure (cementum-mediated periodontal ligament newattachment to the root surface in the absence of long junctional epithelium).
Full thickness flap
Partial thickness flap
Split thickness flap
Laser soft tissue curettage
Laser removal of diseased, infected, inflamed and necrosed soft tissue within the periodontal pocket
Removal of highly inflamed edematous tissue affected by bacteria penetration of the pocket lining and junctional epithelium
Removal of granulation tissue from bony defects
Sulcular debridement (removal of diseased or inflamed soft tissue in the periodontal pocket to improve clinical indices including gingival index, gingival bleeding index, probe depth, attachment loss and tooth mobility)
Osteoplasty and osseous recontouring (removal of bone to correct osseous defects and create physiologic osseous contours)
Ostectomy (resection of bone to restore bony architecture, resection of bone for grafting, etc.)
Osseous crown lengthening

For more information on laser dentistry in the Houston, TX area call Today's Dental at (281) 580-0770 today!