Dentist in Houston, TX
Our team members at Today's Dental are commited to providing you with the highest quality of care.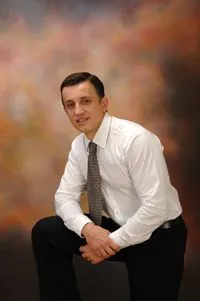 Dr. Tiberiu Oancea
Houston, TX Dentist
Today's Dental
Doctor Oancea has been in practice since 1995. He is caring and compassionate about his patients and he is committed to achieving a high degree of excellence. Before relocating to Houston with his family, Dr. Oancea practiced family dentistry in Chicago, Illinois and New Braunfels, Texas for six years.

He graduated from the Faculty of Dentistry in Timisoara, Romania in 1995 and from the University of Toronto School of Dentistry in 2007. Besides the years of extensive dental training, Dr. Oancea continued to improve his skills in service to his patients. He has taken the University of Nevada Las Vegas Maxi Course for implant placement, the Rondeau seminars in Orthodontics for general dentists and numerous other continuing education courses.
Today's Dental high standard of patient care is complemented by a warm and friendly atmosphere. The office, conveniently located, is an inviting facility with state of the art diagnostic and treatment technology. The list includes;
Digital X-Rays for faster results and less radiation.
Numbing Reversal to help you feel like yourself faster.
Intra Oral cameras which, in many cases allow us to diagnose problem areas more accurately. The patient can see the problem and better understand the treatment.
Nitrous Oxide, or laughing gas, is perfect for relieving anxiety and making your dental visit more comfortable.
Teeth Whitening in one visit!
Laser dentistry - using the Biolase iplus, which in some cases allows dentistry to be performed without anesthetic or the drill.
Flapless implant placement and implant restoration
Six-month smiles - clear, short-term braces for adults
Commitment to Continued Excellence
Dr. Jeromy L. Thornton
Houston, TX Dentist
Today's Dental
Dr. Jeromy L. Thornton was born in Beaumont, Texas and lived in the small town of Silsbee, Texas until his graduation from high school. He discovered his passion for dentistry at a very young age. After graduating from Lamar University with a bachelor of science degree in biology, he then attended Baylor College of Dentistry where he received his doctor of dental surgery degree.

Throughout dental school, Dr. Thornton devoted the majority of his time to dental laboratory work, challenging himself to enhance his hand skills. He owned and practiced in multiple dental offices in the DFW area, focusing on dental surgery and on urgent care for those in need. He has also received his implant certification from the Zimmer Implant Institute.

Dr. Thornton is married and has two young boys. He enjoys spending his free time with family and keeping fit.

Nicole Oancea