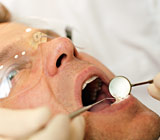 Many people view a tooth extraction (removal) as a major ordeal; but from a dentist's standpoint it's a routine procedure. That's not to say, though, that all extractions are alike — there are varying levels of complexity depending on the type, size and location of the tooth.
Teeth are held in place to the jawbone by a tissue known as the periodontal ligament, whose collagen fibers attach the tooth to the bone of the jaws. By gently manipulating the tooth, we can release the hold that these fibers have on the tooth. This takes not only skill but also a kind of "feel" that comes with experience.
From that point, removing the tooth will depend on its root structure and how it's positioned in the jaw. Upper front teeth have a single, straight root usually shaped like a cone; their path of removal is relatively straight and uncomplicated. Many teeth in the back, however, have more than one root, and not as straight in shape as an upper front tooth, that complicates the path of removal. Depending on the level of complication, the extraction may require an oral surgeon, a dental specialist.
After the tooth is extracted, it may be necessary to fill the socket (the area of the bone once occupied by the tooth) with some form of grafting material that will encourage bone growth. This new growth will aid with any future plans for dental implants.
After the procedure, we will give you instructions for cleaning and caring for the extraction site as you recover over the next few days. We may also prescribe medications to help you cope with discomfort and swelling, as well as antibiotics and antibacterial mouth rinses.
Before undertaking any extraction, we would first conduct a thorough examination and provide you with your options and our recommendations for treatment. We would also discuss your options for replacing the teeth after theyâ??ve been extracted.
The thought of having an extraction may fill you with anxiety. But in the hands of an experienced professional, removing a tooth is a routine and safe procedure.
If you would like more information on tooth extractions, please contact us or schedule an appointment for a consultation. You can also learn more about this topic by reading the Dear Doctor magazine article "Simple Tooth Extraction?"