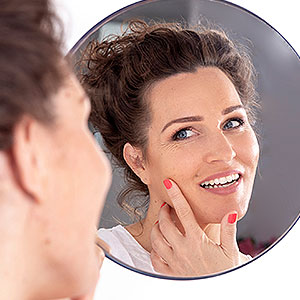 We all want to look young and vibrant, or at least "age gracefully." If you're seeking to reduce the visible effects of aging for a more youthful appearance, be sure you include one very important feature—your smile.
Like other aspects of body and health, our teeth and gums can be affected by aging. Even if you've managed for the most part to avoid the ravages of disease or injury, teeth will still naturally wear from a lifetime of biting and chewing food. The attractive shine of young teeth can also give way to yellowing and other discolorations later in life.
But there are ways to turn back the clock, so to speak, through cosmetic dentistry. And you won't necessarily break the bank to gain a more youthful smile: Many cosmetic procedures are quite affordable and minimally invasive.
If your teeth have become worn and edgy, for example, we may be able to soften those sharper edges with a dental drill. Known as enamel contouring (or reshaping), the single-visit procedure is relatively minor and inexpensive, usually without the need for anesthesia. For heavily worn teeth, you may need to step up to veneers, thin layers of tooth-colored porcelain, or crowns that cover the teeth and make them appear longer.
Mild enamel yellowing and staining often responds well to professional teeth whitening. Using a safe bleaching solution, we can temporarily restore brightness to your teeth that you may be able to maintain for a few years with proper care and occasional touchups. For a more permanent solution you can also turn to veneers, crowns or dental bonding for a brighter smile, especially for discolorations that don't respond well to teeth whitening.
While these techniques can restore a youthful appearance to your smile, don't discount the effect of daily care and regular dental visits. Brushing and flossing are fundamental to healthy teeth and gums—and health and beauty go hand in hand.
Age can take its toll on all of us, especially our smiles. But with proper care and perhaps a little cosmetic magic, you can have an attractive smile throughout your lifetime.
If you would like more information on improving your smile as you age, please contact us or schedule an appointment for a consultation. You can also learn more about this topic by reading the Dear Doctor magazine article "How Your Dentist Can Help You Look Younger."