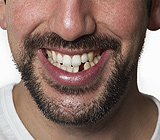 Although your teeth feel as if they're rigidly set in the jawbone, they're actually capable of movement. In fact, dynamic tooth movement is an essential mechanism in good dental function — it allows your teeth to adapt to changes brought on by age and other factors.
The periodontal ligament is a key component in this mechanism. This elastic tissue actually holds the teeth to the bone through tiny fibers that attach to the tooth root on one side of the ligament and to the jawbone on the other. The teeth move within the ligament to maintain contact with both adjacent and opposing teeth in response to changes like the normal wear that occurs due to aging.
This is a primary reason why a missing tooth should be replaced by an artificial one as soon as possible. Because of the tendency just described, teeth next to the space left by the missing tooth will begin to move (or drift) into the space at an accelerated rate. The end result is teeth out of their normal position and range, which could seriously disrupt their normal function as well as adversely affect your appearance.
This is especially important for back teeth. Because they're not easily visible to others when we open our mouths, many people will forgo replacement when they're lost. But missing back teeth can set off a chain reaction of movement that could eventually hinder jaw function.
The best option for a tooth replacement is a dental implant. Life-like and durable, dental implants encourage bone growth at the implant site and adjacent teeth will respond to it as they would a natural tooth. If an implant isn't feasible, then a fixed bridge is also a viable replacement option that will prevent drift. As a result, tooth movement should continue normally with no adverse effects on function.
If you've lost teeth or are about to undergo tooth extraction, it's in your other teeth's best interest to consider a permanent replacement. A new implant or bridge will vastly improve your smile and prevent more serious problems in the future.
If you would like more information on the importance of teeth replacement, please contact us or schedule an appointment for a consultation. You can also learn more about this topic by reading the Dear Doctor magazine article "Replacing Back Teeth."