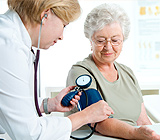 One of the top concerns in healthcare is the interactions and side effects of medications. Drugs taken for separate conditions can interact with each other or have an effect on some other aspect of health. It's important then that all your health providers know the various medications you are taking, along with other lifestyle habits. That includes your dental team.
Calcium channel blockers (CCBs) are one type of medication that can have an effect on your oral health. CCBs are used primarily to control hypertension (high blood pressure), and to treat other cardiovascular conditions like angina or abnormal heart rhythm. They work by dilating blood vessels, which makes it easier for the heart to pump.
CCBs are now recognized as a contributing factor in the development of a condition known as gingival hyperplasia in which the gum tissues "overgrow," extending in some cases abnormally over the teeth. This abnormal growth can be painful and uncomfortable, and can make oral hygiene more difficult to perform. The overgrowth of tissue can also be socially embarrassing.
There's also a secondary factor that can increase the risk for tissue overgrowth in patients taking a CCB — poor oral hygiene. In the absence of a good hygiene routine, a layer of bacterial plaque known as biofilm can build up on tooth surfaces and lead to various forms of gum disease, including hyperplasia. The overgrown tissue contributes in turn to this disease process by inhibiting effective oral hygiene.
If you've already developed gingival hyperplasia or some other form of gum disease, it's important for you to receive periodontal treatment for the disease as soon as possible. Once we have the condition under control, it's then a matter of regular dental checkups and cleanings to reduce the risk of disease, including gingival hyperplasia. We can also help you develop effective hygiene practices that inhibit this condition while you are taking a CCB.
If you would like more information on the effects of medication on oral health, please contact us or schedule an appointment for a consultation. You can also learn more about this topic by reading the Dear Doctor magazine article "Blood Pressure Medications."