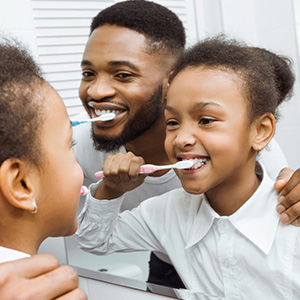 As a parent, you strive to instill good habits in your children: looking both ways for traffic, doing chores or washing behind the ears. Be sure you also include sound habits for teeth and gum care.
Daily brushing and flossing should be at the top of that habit list. These hygiene tasks remove dental plaque, a bacterial film that builds up on teeth and is most responsible for diseases like tooth decay or periodontal (gum) disease.
Although you'll have to perform these tasks for them early on, your aim should be to teach them to do it for themselves. The best approach is to teach by example: If your child sees you're serious about your own oral hygiene, they're more likely to do so as well.
You should also help them form habits around the foods they eat. Like other aspects of our health, some foods are good for our teeth and gums, and some are not. The primary food in the latter category is sugar: This popular carbohydrate is also a favorite food source for disease-causing oral bacteria.
It's important, then, to minimize sugar and other processed foods in your child's diet, and maximize their consumption of whole grains, fresh fruits and vegetables, and other foods rich in calcium and phosphorous. Instilling good eating habits at an early age can boost both their dental and general health throughout their lives.
Finally, help the budding star athlete in your family develop the habit of wearing a protective mouthguard during contact sports. Your best choice is a custom-made mouthguard by a dentist: Although they cost more than the more common "boil and bite" mouthguard, they tend to offer more protection and are more comfortable to wear. A mouthguard could help your child avoid a costly dental injury that could affect them the rest of their life.
Adopting good dental hygienic, dietary, and safety habits at an early age can have a huge impact on your child's teeth and gum development. And if those early habits "stick," it could mean a lifetime of disease-free dental health.
If you would like more information on helping your child develop sound dental habits, please contact us or schedule an appointment for a consultation. You can also learn more about this topic by reading the Dear Doctor magazine article "How to Help Your Child Develop the Best Habits for Oral Health."